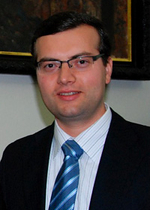 The International Journal of Orthodox Theology is an open access, scientifical journal that promotes the ecumenical dialogue.
In the name of our readers I would like to invite you very cordially to support this first open access orthodox and ecumenical international journal.
Your gift will contribute to the quality of our journal and will encourage our attempts to provide academy and society with a christian culture of love, peace and reconciliation - "ut omnes unum sint" (Joh 17.21).
We need nowadays an orthodox-ecumenical presence in the public sphere in order to communicate our values and to be enlightened by the open-minded, international dialogue. Our open access journal makes accessible results of research in the area of Orthodox and Ecumenical Theology and contributes to a continuous educational process in the society.
Your support will help to cultivate future generations in a spirit of dialogue, openness and tolerance. A gift today will make an immediate impact on the quality of IJOT and will assure the continuity of our journal!
Thank you in advance for your kind support!
Editor-in-Chief of the International Journal of Orthodox Theology
Professor at the Theological Faculty of the University of Valahia, Romania
Privatdozent at the Otto-Friedrich University of Bamberg, Germany